Finished Project!
You wouldn't believe how many of my large picture frames have had the glass broken out of them. I guess when you move 6 times in 5 years, that'll happen.
So what to do with them?
I saw on a linky party, someone used a frame as a front door wreath (I'm sorry, if I would have pinned it I would link back, promise!). Well, I thought I'd take that and adapt it for my apartment, and make an fall frame wreath for my dining room.
What to do with a plain frame?
No more black frame - it'll be painted the green that I'm trying to tie into the dining room & kitchen. Since I was going to paint it, I thought I should sand it - so that the paint would adhere well. Looking back on it, probably more work that I really needed to do for something that would just sit on the wall.
Sanding in Progress
Sanding took a lot of time. It was messy, so I wanted to do it outside, but with losing more daylight with each day, it was difficult to do so once the kids were in bed. ...I have picture of the sanding in progress... I will upload them this evening!
Next, I used a wide paint brush and hand painted the green on. It was a matte wall paint. It took about 3 coats total, but was tricky to get good even coverage around all those little beading details. Thank goodness painting relaxes me, because it took some patience!
I am not fond of matte paint, and didn't want the green to end up scuffing onto the walls when trying to mount it straight, so I decided to give it a quick couple coats of clear gloss. Like my Ziploc boxes that double as mini sawhorses? Hey, ya do what you can with what ya have :)
Clear Gloss Spray
Now for embellishments:
Using some scrapbook leftovers of yellow plaid paper and brown ribbon, I quickly whipped up the "Welcome Fall" strung banners. I attached each flag with hot glue, then the ribbon with hot glue as well to the inside back of the frame.
Just the banner didn't seem like enough to me. Made up some pinwheels, used a marker to add some depth to the edges, and hot glued them to the frame. Half of a larger pinwheel is then glued in the corner of the frame as well.
I'm not sure how I feel about how it turned out. It feels too plain to me still, although maybe that's just because the pinwheels aren't my typical style. It also doesn't feel very much like autumn with the bright springy green frame. Oh well. I plan on changing out the ribbons for other sayings to correspond with other seasons, so it can be a dynamic wall hanging.
The cost of this project:
$0.00
Wahoo!
Everything I used was already in my stash - paper scraps, ribbon scraps, markers, and frame with no glass just
waiting
to be crafted :)
I'm getting really good at this whole free-crafting thing.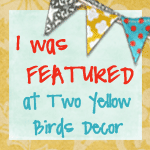 I can often be found linking up at these fabulous parties-
Monday: Make It Pretty Monday, Skip to my Lou, DIY Showoff Project Parade, More the Merrier Monday, C.R.A.F.T., Just Something I Whipped Up, The Gunny Sack, Debt Free Mommy,Cutesy Mondays, Craft-O-Maniac Mondays, Make It Mondays, Mixer Monday at Whimsically Homemade,
Tuesday:Get your craft on Tuesdays, Project Queen, Sugar Bee Crafts, New Nostalgia, Lady Bug Blessings, Too Cute Tuesday, The Schwins Tuesday Party,Tasty Tuesday,
Wednesday:The Thrifty Home, Linking up with Lil Luna, Tea Rose Home, Adorned from Above, Rae Gun Ramblings - What We Wore, Read, and Made Link Party, Ginger Snap Crafts - Wow Me Wednesday, Someday Crafts - Whatever Goes Wednesday, My Girlish Whims - Your Whims Wednesday, Work it Wednesday,
Thursday: Transformation Thursday at The Shabby Creek Cottage, Catch a Glimpse Thursday, Creative Juice Thursday, Thursday's Temptation @ Two Yellow Birds Decor,Crafty Soiree at Yesterday on Tuesday, Delightfully Inspiring Thursday,Wait Til Your Father Gets Home,
Friday: Shabby Nest,Whipperberry, Its a Hodge Podge Life, 30 Handmade Days, I'm Lovin It Link Party at Tidy Mom, Tickled Pink Fridays at 504 Main, For the Kids Friday at Sun Scholars,
Saturday: Free for All at Young and Crafty, Show and Tell Saturdays, Strut Your Stuff, Get Schooled Saturday, Spotlight Saturday,
Sunday:Think Pink Sundays at Flamingo Toes, Sunday Scoop at I Heart Nap Time,