Pre-post note: I've been trying to come up with cute nicknames for the kids for the blogosphere and I think I'll start calling our 3-year-old T-Rex. He LOVES a dino book we have, and it's pretty fitting for his loud personality :)
I know TV rots kids' brains, and that parents should strictly limit the amount of exposure, it's on at our house much more than probably should be. When we get home, Baby needs a bottle, then right afterwards I start supper - then TV is what keeps T-Rex preoccupied and out of the kitchen while I cook. Let me make a few more excuses for the one thing I'd said I'd never do when I was a parent...the only TV shows we allow him to watch are definatly age appropriate, with no violence. I've even stopped letting him watch Thomas the Train, just because the characters are so sassy (another bad habit of T-Rex).
Our habit of letting T-Rex watch too much TV got even worse when Baby was born. Exhausted parents, hands tied up nursing a little one, it all was just easier to sit T-Rex down on the couch and veg.
We also have new rules in the house that naughty boys don't get to watch
any
TV. Then the challenge becomes that Mama has to come up with creative ways to keep T-Rex interested and stimulated while dealing with a grumpy, angry, or just not-having-a-good-day type of boy. (We've been having A LOT of these days lately....)
Somewhere in the world of Pinterest I found a wonderful website written by a mom of 3 who homeschools:
1plus1plus1equals1.com
. I am not a teacher by any means, but yet want to help teach my children the skills they will need. There are printables for toddlers, preschoolers, kindergardeners, and older kids. I've only really explored the "tots" section,
but am really blown away by it
!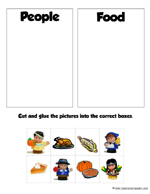 I really want T-Rex to start to read. He knows all of the letters, upper and lower case, but hasn't started to put together the recognition of short words. He also can't draw letters either (or shapes for that matter). I've printed off the
Thanksgiving pre-school pack
and plan to do it bit by bit with T-Rex this week.
The best part is that some of the activites will require me to guide him - tracing letters. But there are others that I can simply give him instructions, and let him go on his own - color by number, sorting people from shapes.
I do enjoy making things for my children, but the simplicity of printing this off is what has totally won me over :)
I can't wait to start this with him and I'll update on how he likes it!
Super huge thank you
to the creator of these activity books!